On April 9th, 2017, we will pause to remember the sacrifice of ten thousand young Canadians killed and wounded a century ago at Vimy Ridge.
Please join us for as much as you can of this once-in-a-lifetime occasion.  This will be a wonderful opportunity to share a memorable visit to Vimy Ridge and Metz, France the home of RCAF Number 1 Air Division Headquarters  with like minded "children" of RCAF service personnel from the '50s and '60s during the 50th anniversary year of the closing of the school in Metz
A few days after the events in Vimy we will be in Metz, amid a whirlwind of reminiscence, shared experience and new discoveries, we will pause again to remember the sacrifice of many hundreds of young Canadians, military and civilian, whose lives were lost in Europe as a direct result of the Cold War,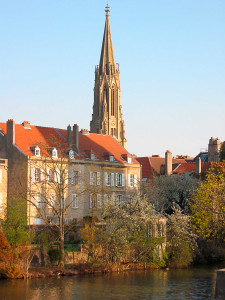 For those of you who haven't been to Metz since the 50s or 60s when it was somewhat drab, you're in for a pleasant surprise. To get an idea, rake a look at these photos taken in 2003 or visit the Metz Tourism website.
What we need, at this stage of the reunion planning is a rough idea of who might attend; so, if you are interested we urge you fill our our survey to indicate your intentions. When filling this out, please make any suggestions you might have. You can click here to see who has already expressed an interest in going.
Currently the proposed programme is outlined below. Feel free to propose additions.
Pre Reunion Activities
The official events at Vimy are being organized by the Canadian Government and, at this point, it is not clear whether or not we can arrange attendance at the ceremony. On the other hand, we are in the process of two identifying two commercial offerings that Reunion attendees could sign up for:
Two or three day commercial tour of Vimy and other World War I sites  (likely starting in Paris)
Day tour of Vimy (Starting in Paris)
As well there is the possibility of some organized activities in Paris including a musical evening at le Vieux Belleville
Metz Activities
Arrival will be on 11 April and departure on April 14, 2017. Depending on the attendee wishes, this could be extended by a day
Currently proposed activities include but are not limited to:
 An opening get together (evening of the 11th)
Walking tour of the historic centre
A day bus tour to points of interest in the area (suggestions welcomed)
A group dinner or two.
(If possible) A visit to the Chateau site (now a hospital) and possible event within the Chateau and/or access to the remaining original General Navereau School building
Post Reunion Activities
None are proposed yet but we anticipate that some will be.