Program, Registration and Hotel Information
Metz Today
For those of you who haven't been to Metz since the 50s or 60s when it was somewhat drab, you're in for a pleasant surprise. To get an idea, take a look at these photos taken in 2003 or visit the Metz Tourism website.
Program
Reunion Dates: Tuesday, April 11 – Thursday, April 13, 2017
We will meet each evening at about 6 pm for drinks and discussion at the Hotel de la Cathédrale. A room has been set aside for us just off the bar which is right next to reception (See photo).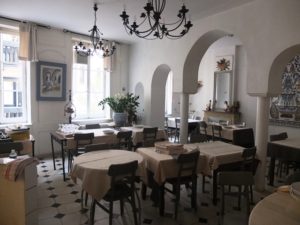 Any evening in which the weather permits, the reception can be moved to the outside patio which is very pleasant.
Date
Time
Activity
Notes
Tuesday, April 11
6:00 PM
Registration and Reception at Hotel de la Cathédrale
Tuesday, April 11
7:30 PM
Group Dinner at La Baraka located just next to the reception area in the hotel. See the Menu and Trip Advisor Review
This restaurant serves very good North African food -- something you should try at least once in France. If there is a significant group who prefers to eat elsewhere, we can make a reservation or recommendations.
Wednesday, April 12, All Day
9:00 AM Departure from Hotel
Bus/Van Tour of "old haunts" Tincluding:


Portes Allemandes (German Gates)

Fort Bellecroix (PMQs)

Original General Navereau School and Primary Schools

Ecole Schumann (General Navereau High School)

Chateau de Mercy and Chapel

Choloy Cemetery


Access to the Chateau may only be a photo opportunity although we are working to gain access.


There will be lunch at a location to be determined – likely at Pont à Mousson. We are currently considering Les Relais d'Alasce Karlsbrau which specializes in Alsatian food.
Wednesday, April 12
6:00 PM
"Reminiscence" cocktail hour at Hotel de la Cathédrale
Wednesday, April 12
7:30 PM
Group Dinner
This will be at La Cloche (no website) which is jus a few steps from the Hotel de la Cathédrale. They will propose a menu (Appetizer, Main and Dessert) at around 30 Euros (plus beverages around the beginning of March.
Thursday, April 13, morning
9:00 AM at Hotel de la Cathédrale
Guided Walking Tour of Metz Part 1. This includes Cathedral, Place d'Armes, covered market and on the Citadel Quarter (Esplanade, etc.).
Day's activities organized by Metz Tourist Bureau focus on reacquainting (or introducing) you to the city of Metz are organized by the the Metz Tourism Office. Tour cost (parts 1 and 2) will be approximately 33 Euros per person including lunch (Drinks are extra)
Thursday, April 13, midday
Regional lunch
Location: Restaurant le Romarin. Click on links for menu and Trip Advisor Review.
Thursday, April 13, afternoon
Guided Walking Tour of Metz Part 2. Focus will be on the Imperial Quarter (period of Prussian Rule: 1870 to 1918) -- la Gare, Avenue Foch, etc.
Thursday, April 13
6:00 PM at Hotel de la Cathédrale
Meet for drinks
Thursday, April 13
7:30 PM
Group Dinner
Likely location is Brasserie ABC near the Gare which is an old haunt for some. Alternately, if participants prefer, we can vook something near the hotel
Hotels
Reunion Headquarters will be Hotel de la Cathédrale (our experience in 2009 and 2012 there was excellent). It is in a beautiful setting overlooking the cathedral and is rated the Number 3 Hotel in Metz by Trip Advisor. Please note that this hotel has four storys and no elevator.
A block of rooms has been set aside for us and they will off a 10% reduction on the published room rate (currently 75 to 120 Euros) if we take at least 10 rooms. Reservations are now open and can be made by contacting the hotel by email at hotelcathedrale-metz@wanadoo.fr using the identifier Navereau. If you are uncomfortable with the lack of an on line booking system or prefer a more modern hotel, here are a few recommendations below of hotels are close to the Cathedral and that committee members or attendees at previous reunions have stayed at and can recommend..
There are, of course, many other hotels.